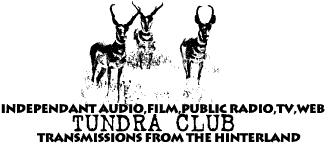 Tundra Club is a non-profit 501(c)(3) organization, incorporated in 1995, with offices in Montana and Utah. Our mission is to support independent productions for public broadcasting, film and the web. We helped produce Western Soundscapes, an archive of animal and environment recordings; Chrysti the Wordsmith, a series on etymology that aired on 400 stations in 130 countries; and Mountain Music Project, documentary film on the comparing the music Appalachia and Himalaya.
Since 2001 our main focus has been the Hearing Voices radio/web project, with funding from the: Corporation for Public Broadcasting & National Endowment for the Arts. We create and distribute evocative, compelling and innovative radio programs by outstanding independent producers. We find the extraordinary in the ordinary, the uncommon in the commonplace. We offer the unexpected voices, ideas, and experiences that public radio listeners find memorable. These programs are heard by millions of listeners on National Public Radio and Public Radio International series, such as All Things Considered, Latino USA, This American Life, Marketplace, and Living on Earth.
Our latest project is the PubMedia Commons, a collaborative site for public media online managers to share code and community.
Director: Barrett Golding | 686 Canyon View, Bozeman MT 59715 | 406-586-1408